Bloody white is a cornerstone example of what it means to be an artist in web3.
His new project, MODERN ROMANCE, paints an elegant marriage between his music and visual art in a compilation you don't want to miss.
Here's what to know
MODERN ROMANCE is a 5-track EP.
Each song features a unique price and supply.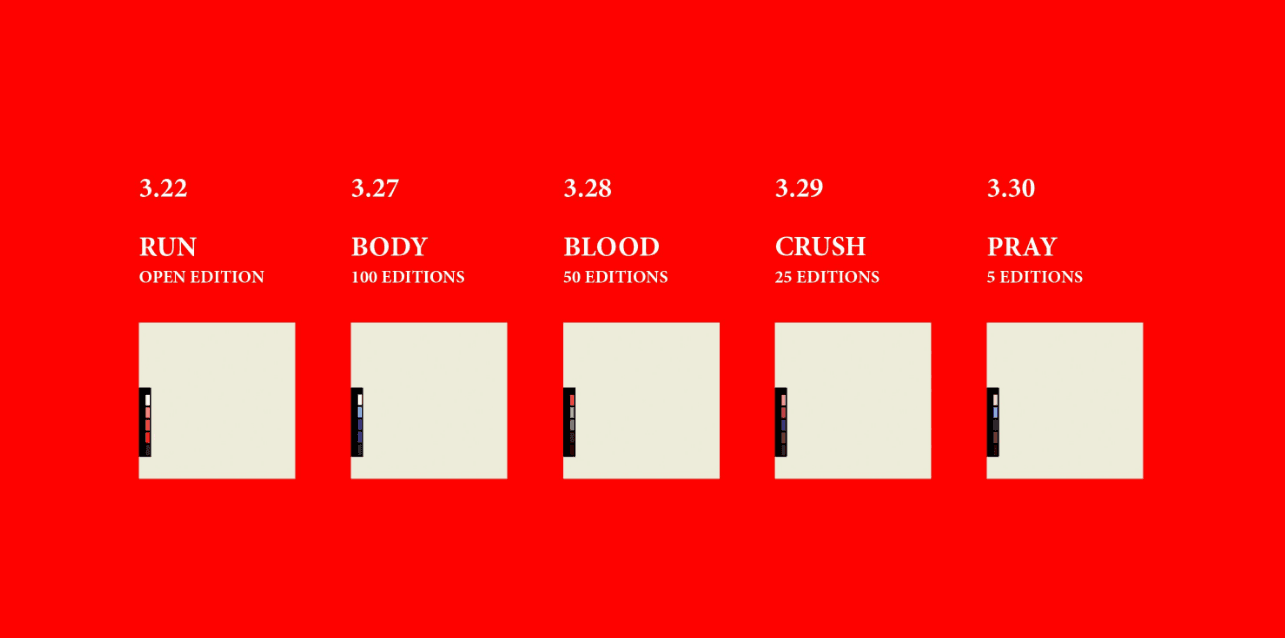 MODERN ROMANCE
This collection is a defining moment for bloody white.
In just under 8 minutes - bloody demonstrates the full spectrum of his songwriting and production abilities.
MODERN ROMANCE is his first full body of work released natively in web3 - coming after he's released nearly 50 tracks across Catalog and Sound over the last year and a half.
The EP showcases the cutting edge of electronic music. It fuses synths, strings, guitars, and drums in a way unique to anything in web3.
As someone who's been a fan of future bass since the term was first coined in 2014 - MODERN ROMANCE feels like a 2023 adaptation of the golden era of Soundcloud.
The songs
We start out with CRUSH - an energetic and compelling intro setting the scene with a wide atmosphere and full-string arrangement.
Then we move into BODY - a short, yet compact ballad that is both vulnerable and endearing. "Gonna fuck around and get too close," says it all.
Next is RUN - the first track minted on the project. RUN highlights the euphoric production fused with the all-too-real instinct to run from our discomforts. "I won't pray for you,  please pray for me".
PRAY - the rarest track on the project. A soothing yet uplifting arrangement drawing back to bloody's early days raised in a very religious family.
And finally - BLOOD. With a soft intro, the track culminates with a peak experience that you can't help but to listen close.
All and all, MODERN ROMANCE has something for everyone.
About Bloody White
When we think of artists to pay attention to in web3 - it often starts with a simple question.
Does this artist care?
For bloody white - Music NFTs have literally changed his life.
He's released 50 songs across Catalog and Sound in the last year and a half.
NFTs paid for a car after he crashed his driving Doordash.
He moved to LA. Met Daniel Allan. Played multiple web3 shows.
He's rather quiet - but the music speaks for itself.
Bloody white is a bet on the future of web3 music.
Why Should I Care?
MODERN ROMANCE is bloody white's first hallmark collection.
When asked how he wants people to remember MODERN ROMANCE, bloody commented "where you were on 9/11".
Looking back on his lineage as an artist - you'll quickly find MODERN ROMANCE standing out.
In the same way that Daniel Allan released Glass House or Reo Cragun released Frameworks - MODERN ROMANCE is that equivalent for Bloody White.
If you're looking for exposure to one of web3's brightest stars - look no further than MODERN ROMANCE.
---

Thank you to our sponsor Sound.
Sound is a leading market to discover amazing new music and prove that you were there first.
Start collecting on Sound today at sound.xyz.
---
Invest in Music is free to subscribe and powered by NFT Now.
Collect the Invest in Music Pass and join the Collector Chat.
Listen and Watch: Spinamp | YouTube
Follow: Twitter | Instagram | TikTok | Lens
---
Disclaimer: The content of this announcement is published in the United States of America and persons who access it agree to do so in accordance with applicable US law. Coop Records Management LLC ("CRM") is not a wallet provider, exchange, broker, financial institution, money services business, or creditor.
The Invest in Music podcast, newsletter or other materials from CRM (collectively, "Content") is for informational purposes only, and should not be construed as legal, tax, investment, financial or other advice. Nothing in this post or in any Content constitutes a solicitation, recommendation, endorsement, or offer by CRM or any third party service provider to buy or sell any securities or financial instruments or products. All Content is information of a general nature and does not address the circumstances of any particular individual or entity. CRM is not a fiduciary by virtue of any person's use of or access to Content. You alone assume the sole responsibility of evaluating the merits and risks associated with the use of Content before making any decisions based on such Content.
You should not treat any opinion expressed by Cooper Turley or others with respect to the Content as a specific inducement to make a particular NFT purchase or follow a particular strategy, but only as an expression of opinion. Before acting on information based on the Content, you should consider whether it is suitable for your particular circumstances and strongly consider seeking advice from your own legal, tax, investment, financial or other advisors. CRM or its affiliates or clients may, directly or indirectly, have a financial interest in Content discussed.