Conference season is heating up.
I'm headed off to NFT Paris this weekend, followed by ETH Denver next weekend.
We're throwing a Music NFT Kickback event at ETH Denver so be sure to stay tuned for an invite!
The music highlights of this week were three projects - SWEETS 2, Science of Patterns and RŌHKI.
Fresh off a rebrand, Aly debuted his open edition album - SWEETS 2 - with mints for the first 8 songs. With the last 4 starting today, the collection is shaping up to have made a big splash.
Tycho minted his first album (made 20 years ago) in partnership with Medallion through his Open Source Community. The album saw over 700 editions sold - largely from mainstream fans.
RŌHKI turned heads with 677 editions minted for the last song in Season 1 - Reflections.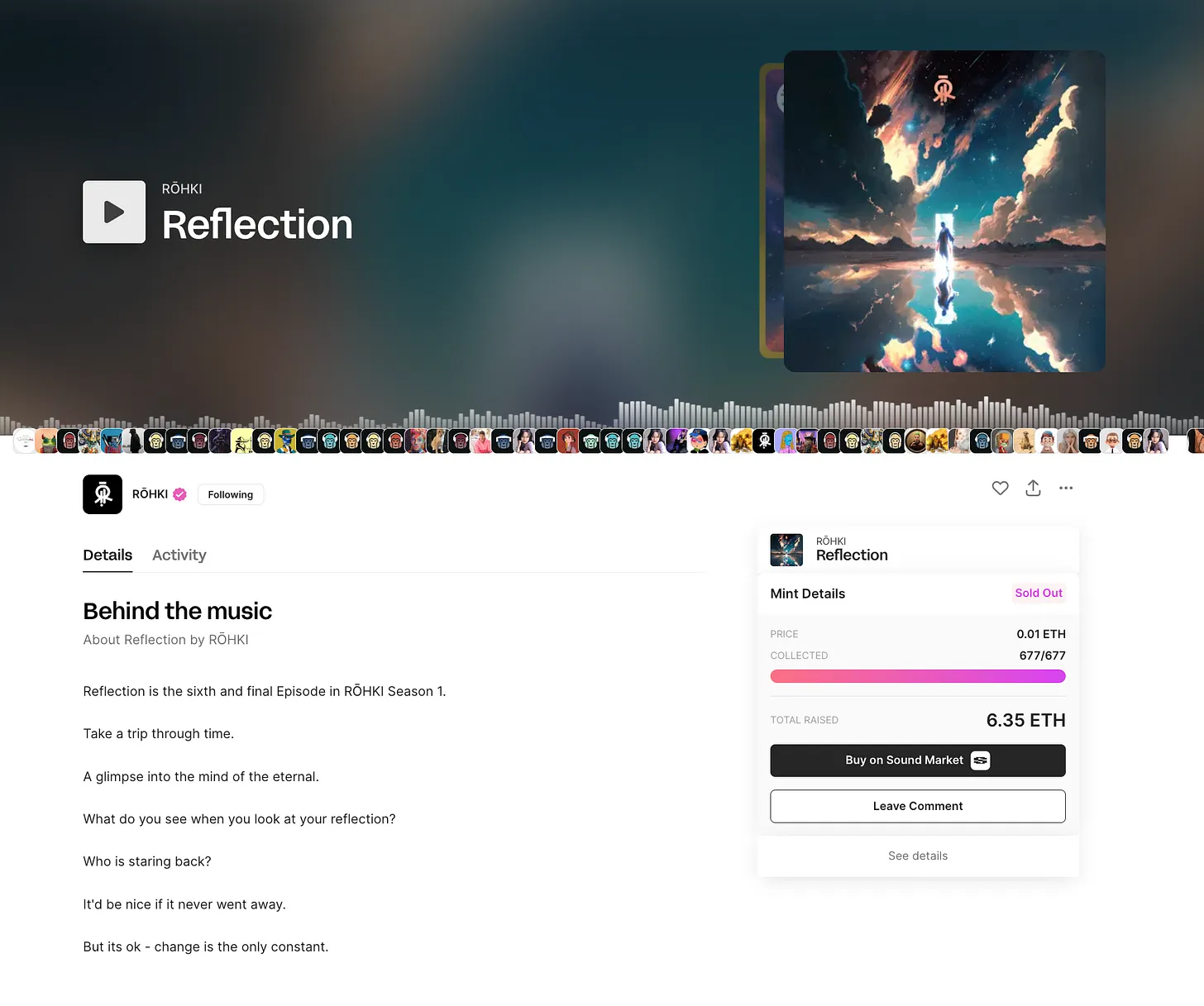 The interest case study here is the difference between the buyers of Science of Patterns and Reflections.
Medallion is strategically leaning in the use of credit cards and abstraction to get fans over the line with collecting.
RŌHKI leans to a much more crypto-native audience with Sound but it highlights one very important topic.
How do we get more collectors involved?
Right now - only a fraction of the world's music is collectible.
I believe the single biggest goal for this year is to put as much music on-chain as possible.
Think about it. Skrillex dropped 2 albums in 48 hours after selling out MSG in 3 minutes.
How many editions would it have sold?
These are the questions worth asking and the challenges worth solving.
Here's what to watch for this week.
Upcoming Drops
Freshly Minted
Top Stories
NoiseDAO Announces HIGH FREQUENCY Vol 1
NoiseDAO shares plans to launch their first compilation
Tycho Science of Patterns 20th Anniversary
Tycho sells editions of his first album through Medallion and the Open Source community.
Napster Acquired MintSongs
The brand that started digital music streaming acquires MintSongs
Bonfire Introduces Native Drops
Bonfire allows anyone to drop on their own site powered by Sound Protocol
Sound Adds Top Charts
Sound adds top 100 songs on the platforms to the Charts
Bello Launches Custom Searches
Bello adds a new feature to easily search through different collections
Water & Music State of Music AI Tools
Water & Music shares a deep dive on the current state of music AI
Bonus Reads
---
This Week in Music NFTs is free to subscribe. Follow me to stay up with the latest!
Disclosure: I am an investor in Medallion, Bonfire and Sound. I have also collected most of the songs mentioned in Freshly Minted.