This first project from the LNRZ FRSHMN Tape drops today.
The result of the first writing camp in Joshua Tree - SATELLITES marks the first hallmark collection for the growing artist collective led by Reo Cragun.
We had Reo on the podcast to talk about SATELLITES which you can listen to here.
The EP allows you to collect a pre-reveal asset that turns into one of the songs of varying rarities after the reveal.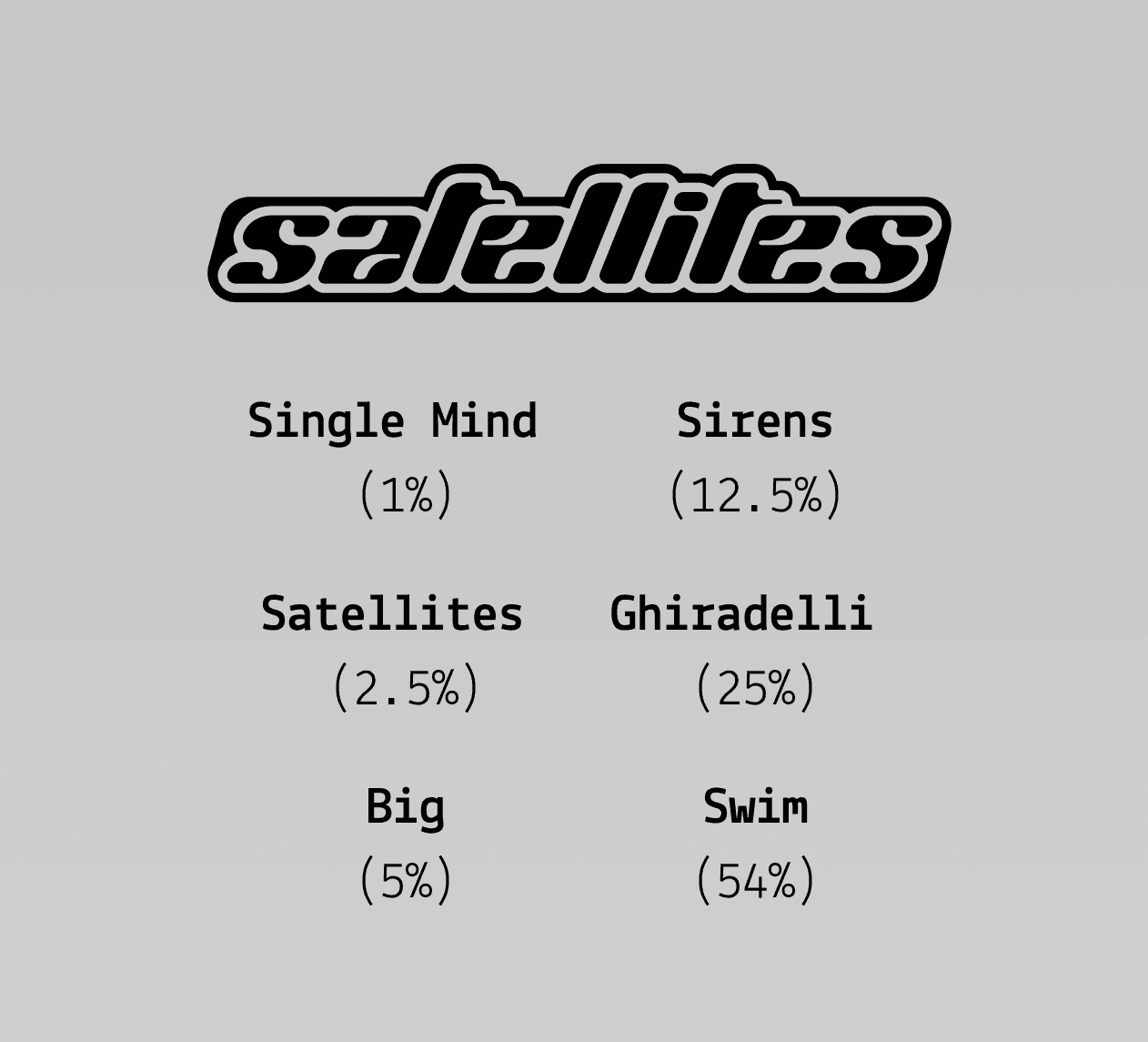 LNRZ holders voted on the final supply and price - 1250 editions at 0.01 ETH.
Preceded by the SATELLITES (TEASER) on Sound - if there was ever a day to get on the LNRZ train, that day is today.
Collect SATELLITES here.
About LNRZ & SATELLITES
LNRZ is a collective for onboarding artists to web3 music through one of the most vibrant communities of collectors we've seen so far.
The community is primarily active in their Telegram chat, and it's a place for artists to connect with the collectors and learn more about each other.
As the space continues to change, LNRZ continues to be at the forefront, and this voting structure is one of the many innovative ideas they've brought to the table.
SATELLITES is the result of the music produced at a writing camp in Joshua Tree. It features the 5 freshmen - Aly, Vaarwell, Madalen Duke, Tate Tucker, and Mark Johns.
Executive produced by Clear Eyes - SATELLITES symbolizes everything you could ask for from an emerging collective.
The sound blends electronic, acoustic, rap, and alternative together in a way that speaks to the experimental sound LNRZ has been curating for nearly a year.
With artwork paired to match - SATELLITES builds on a precedent set by collections Frameworks and Criteria.
Fixed editions have shifted out of focus in the last few months, and SATELLITES is challenging that notion by putting a flag in the sand.
The vote determined the supply, price, and rarity of SATELLITES - part of a larger focus for LNRZ to scale up community contribution and governance this year.
Why Should I Care?
Despite market changes, LNRZ continues to stay ahead of the trends and maintain a strong community around great music.
With drops every week at low prices, LNRZ is a great place to start if you're looking for new music in web3.
We expected SATELLITES to be one of the best-performing collections in the early LNRZ discography and are excited to see how SATELLITES plays out.
Collect SATELLITES here.
---

Thank you to our sponsor Sound.
Sound is a leading market to discover amazing new music and prove that you were there first.
Start collecting on Sound today at sound.xyz.
---
Join the Community
Invest in Music is free to subscribe and powered by NFT Now.
Collect the Invest in Music Pass and join the Collector Chat.
Listen and Watch: Spinamp | YouTube
Follow: Twitter | Instagram | TikTok | Lens
---
Disclaimer: Thecontent of this announcement is published in the United States of America and persons who access it agree to do so in accordance with applicable US law. Coop Records Management LLC ("CRM") is not a wallet provider, exchange, broker, financial institution, money services business, or creditor.
The Invest in Music podcast, newsletter or other materials from CRM (collectively, "Content") is for informational purposes only, and should not be construed as legal, tax, investment, financial or other advice. Nothing in this post or in any Content constitutes a solicitation, recommendation, endorsement, or offer by CRM or any third party service provider to buy or sell any securities or financial instruments or products. All Content is information of a general nature and does not address the circumstances of any particular individual or entity. CRM is not a fiduciary by virtue of any person's use of or access to Content. You alone assume the sole responsibility of evaluating the merits and risks associated with the use of Content before making any decisions based on such Content.
You should not treat any opinion expressed by Cooper Turley or others with respect to the Content as a specific inducement to make a particular NFT purchase or follow a particular strategy, but only as an expression of opinion. Before acting on information based on the Content, you should consider whether it is suitable for your particular circumstances and strongly consider seeking advice from your own legal, tax, investment, financial or other advisors. CRM or its affiliates or clients may, directly or indirectly, have a financial interest in Content discussed.